Recipient of an Arts Council Agility Award 2023

Currently exhibiting at the 142nd Royal Ulster Academy Exhibition, Ulster Museum, Belfast October through to January 2024
Solo Exhibition: 'As I See It' Clifden Arts Festival, September 2023 I WILL POST ALL IMAGES OF MY WORK IN THE NEXT FEW DAYS.  Mellowdy
Summer Exhibition Courthouse Gallery, Ennistymon, 2023 Hideaway
Outset Gallery Christmas Open, Winter 2022 Morning
Galway International Arts Festival Summer 2022 Galway Emerges
A Group Exhibition at Kenny Gallery, Galway
Summer Exhibition, Courthouse Gallery Ennistymon Summer 2022  Blackrock Sunset
Collaboration with Connemara Carpets 
An ongoing collaboration with Connemara Carpets creating a series of exclusive limited-edition handmade Wool and Silk Wall Hangings.
Solo Exhibition; Sunchyme Shorelines Art Festival, Portumna, September 2022 Pink Cottage
The Dean Hotel Art Collection May 2022
'Tracks and Trails' and 'Faraway Hills' were acquired by the Dean Hotel Galway for their hotel's art collection
Artist's Eye Galway Exhibition and Publication – July 2022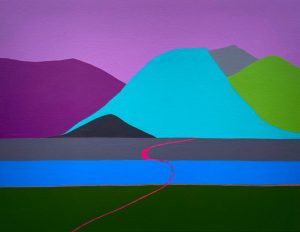 Winter Open, Courthouse Gallery, Ennistymon, 2021
Pluid Project 2021
At the Iveagh Gardens, Dublin 
Blackrock Tower at Sunset
Royal Ulster Academy exhibition in Belfast October 2020
'Sunset I' was selected for inclusion in the 139th annual Royal Ulster Academy exhibition in Belfast.  
Winter Exhibition, The Courthouse Gallery, Ennistymon Winter 2020
Shorelines Arts Festival September 2021
The Space Gallery 2021
The Space Gallery is run by Birgit Lochmann and her husband Peter and has hosted a variety of exhibitions of paintings and sculptures in their beautiful rural enclave.
 Pollacappul Lough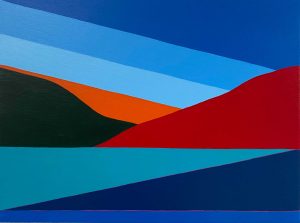 Galway 2020 Galway – European Capital of Culture 2020
Commissioned by Galway 2020 to create an artwork used as part of their branding.  I used the image of the rolling Connemara Hills painted in the Galway 2020 colours. 
Cards printed with this image were written and distributed to residents of nursing homes during Covid restrictions
2020 Hills
Hark
Hambly & Hambly, Dunbar House, Enniskillen, Co. Fermanagh
Summer Exhibition, The Courthouse Gallery, Ennistymon 2019
Lettershanna Bales, one of three paintings selected 
Solo Exhibition USA 2019 Connemara Chroma
I was invited by Galway 2020, in association with Culture Ireland, to have a solo exhibition of my work Connemara Chroma exhibited at the Galway Showcase at Celtic MKE Irish Fest, Milwaukee, WI, USA which opened in August 2019.
Connemara Twist
'9 Walls' at the Hyde Bridge Gallery, Sligo 2019
'9 Walls' at the Hyde Bridge Gallery, Sligo November 2019
Low